Why Use JRebel and XRebel?
JRebel and XRebel enable Java development teams to create better applications, faster. By improving developer productivity, and making it easier to find and fix bugs in complicated situations, our tools give developers the power to accelerate Java development.
Profile Distributed Applications
Increase Code Visibility
See Real-Time Performance Feedback
Our Java developer productivity solution combines JRebel and XRebel to transform enterprise software development. Accelerate time-to-market, improve user experience, and increase application performance with our complete Java development toolkit.
INCREASE DEVELOPER PRODUCTIVITY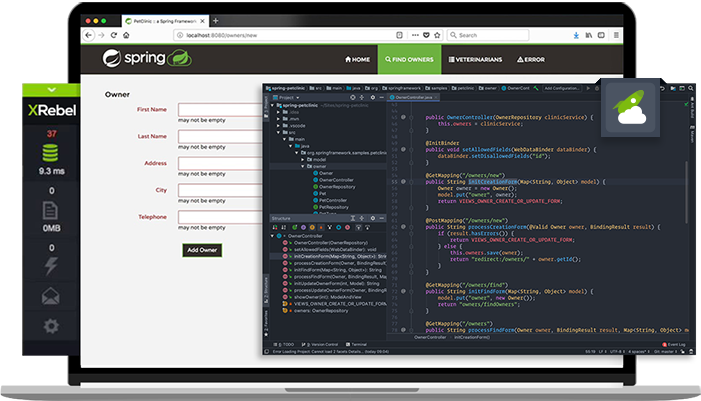 Skip Rebuilds and Redeploys
With JRebel, Java developers skip the time-consuming build and redeploy steps in the Java development process. That means less time spent waiting, and more time spent coding.
See Code Changes in Real Time
Typically developers have to wait for the build and redeploy steps to complete to see if their code change had the desired effect. With JRebel, developers can see those code changes in real time.
Maintain Application State
By maintaining application state after making changes, developers maintain focus on the code they're working on. That means more time spent writing code, and less time spent finding where you left off in your application.
The time saving for me is significant.
I'd say around 10% of my time in a day, sometimes more, is saved because of JRebel."
I am using JRebel for SAP Hybris projects,
and it saves a huge amount of time (since rebuilding and restarting the server in Hybris takes at least 20 minutes)."
Netty and Spring together with JRebel
is a real pleasure to work with. The value of time saved is over 50% of my development time."
Reload time is reduced for huge,
modularized projects, and this helps with difficult troubleshooting issues, therefore saves a lot of time."
It makes the whole development process easier because I can work incrementally and try things out."
Track Code Impact Across Distributed Applications
XRebel traces code across distributed applications, making it easy to identify and fix performance issues during development.
Accelerate Time to Market
Because XRebel is able to help developers easily find issues in application code early in the production pipeline, applications go to production faster and with fewer bugs.
Get Real-Time Feedback on Application Performance
XRebel shows developers how their code is performing in real time. That means cleaner code and fewer surprises during production.
With XRebel, I'm able to track down the data
that was used and copy it over into SQL developer and run it to see the actual result. I think that in itself saved me a significant amount of time."
With XRebel, I'm much more confident in the source
of my exceptions and can now say more accurately whether they are a problem or can be safely ignored. Exceptions are great, but I really love the database info too!"
We bought licenses for folks
who work full time on this project. I turn it on and leave it on always. The others are doing the same."
Upcoming Events and Webinars
Join us for industry insights at an event near you.
Try Our Java Productivity Solutions, Free
Want to see how impactful JRebel and XRebel can be for your development team? Test them out with a free, 10-day trial.
See JRebel and XRebel in Action
Sign up for a live demonstration of JRebel and XRebel.
Is COVID-19 Affecting Your Team?
Please take our 5-minute COVID-19 Impact Survey.