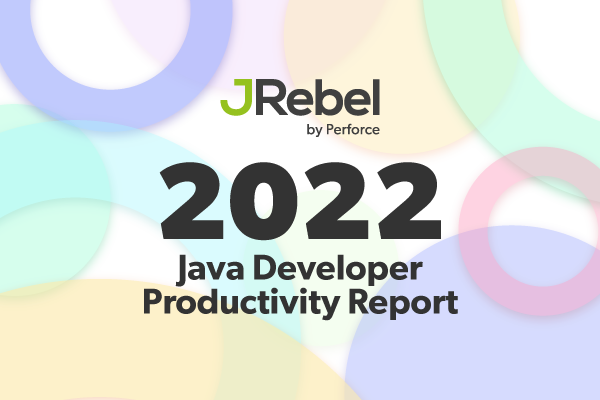 February 22, 2022
2022 Java Report Overview: How Redeploys Are Impacting Java Developers in 2022
For the last ten years, JRebel has conducted an annual survey of Java developers and showcased the results in their Java Developer Productivity Report. 
In this blog, we give an overview of the 2022 Java report, and discuss some of the key findings — including redeploy times for Java applications in 2022.
About the 2022 Java Developer Productivity Report
The 2022 Java Developer Productivity Report is based on a survey of Java development professionals around the world. The survey, which ran from October 2021 to January 2022, drew a total of 876 responses. The survey focused primarily on the Java technologies and approaches used in developing Java applications today. We also included questions specific to performance issues, microservices, and CI/CD, as well as respondent demographics and organization firmographics.
Respondent Demographics
Like previous years, the respondents were primarily developers or similar, representing nearly 50% of the overall respondent data. When combined with the second most popular job title among respondents — Java Architect — that number grows to 70% of all respondents. There were also a fair number of leadership roles represented, with team leads representing 15%, and director roles.
Respondents reported that most of their companies were large, enterprise companies, with 31% reporting a company size of over 1000 employees. Mid-sized companies with 100-1000 employees were the next highest group, with 27%. Small companies and startups were represented at 20% and 12%, respectively.
What We Asked in the 2022 Survey
In the 10 years JRebel has been running the Java Developer Productivity Survey, the focus has always been on developers. From the technologies they use, to the architectures they implement, to the pain points they feel when developing Java, the survey is designed to get to the core of the Java development experience.
For this year's survey, we again explored that experience, including questions on:
Java language and development trends
Java application architecture trends
Java microservice trends
Java technology trends
Java CI/CD trends
Developer productivity trends
And more
Measuring the Impact of Redeploys on Java Developers
One of our favorite parts of our survey each year is asking about redeploy times. For those that aren't familiar with JRebel, we ask about redeploy times because JRebel helps Java developers to completely bypass the redeploy process during Java development.
When you consider the time wasted per redeploy, and the number of times the average Java developer redeploys their application every day, redeploy times can be a costly impediment to efficient Java development. In the next questions, we dive in on those numbers — asking developers to share their experiences with redeploy times, frequency, and what teams would do if they could save the time they waste on redeploys.
Redeploy Times for Java Applications in 2022
Like last year, respondents reported redeploy times between 2-3 minutes as the most common at 31%. 10+ minute redeploys were up slightly from 20% in 2021 to 21% in 2022. All said, teams who experienced over three minutes per redeploy represented 50% of all responses.
When comparing redeploy times across organizations of different sizes, we found that 78% of smaller organizations (under 100 employees) reported redeploy times of under 5 minutes, compared to 56% for larger organizations (over 100 employees).
Final Thoughts
In the 10 years that JRebel has produced the Java Developer Productivity Report, there has been a constant influx of new innovations, trends, and technologies. But with that constant march of innovation comes new and familiar challenges.
While we see innovations across all areas of the Java landscape every year, redeploy times continue to hurt productivity for Java development teams. With the widespread development talent shortage, skipping these redeploys will be important for organizations who want to get the most out of their existing Java teams (and keep them happy).
Download the Full Report

The full 2022 Java Developer Productivity features in-depth data and analysis on the most popular tools, trends, and technologies in the Java ecosystem today. Download for free via the link below.
Additional Resources